Welcome to Cozys' Gin Bar!
design your own favorite and let us mix and serve it for you.
Bombay Bramble 260b. Blackberry/raspberry.
Bombay Sapphire 250b. Juniper/citrus/spices.
Gordons London Dry 210b. Juniper.
Gordons Pink 230b. Raspberry/strawberry/red currant.
Beefeater Pink 230b. Strawberry.
Tanqueray 260b. Juniper/liquorice.
Martin Miller's 320b. Juniper/citrus.
June by G'vine 320b. Pear/cardamom.
Elephant London Dry 320b. African herbs. This company gives 15% from the profit from every sold bottle to the Elephant Gin Foundation to support African elephant conservation.
Rogue Spruce 290b. Cucumber/spruce.
Hendrick's gin 395b. Traditional gin herbs plus cucumer and rose.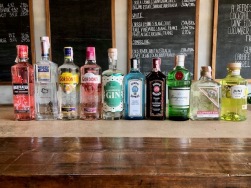 Fever Tree Tonic.
Fever Tree Elderflower. Elderflower.
Fever Tree Mediterranean. Rosemary/lemon/thyme.
Fever Tree Ginger beer. Ginger.

NEW!
Bitterwater Thai craft tonics with Thai herbs and citrus

Bitterwater Floral
Bitterwater Lemon
Bitterwater Classic